back to the overview
back to the overview
About us
...and sense nature!
A magnificent mountain landscape, pure nature and the quiet, sunny location of our farm are sure to draw you in. Visit us in the hiking area of "Styrian Krakow" in the middle of the organic region of Murau. Tradition, farm life and authenticity are what make our farm special.
Simple living, rest, relaxation and unwinding.
"The purity of the air, the clarity of the lakes, the alpine pastures in bloom and the friendliness of the people - that's what keeps us coming back!" (Quote from a regular visitor in our guestbook). No wonder that the friendly reception by the Knapp family makes it easy for our guests to feel at home.
Our farmhouse has lots of wood. And you can smell it all over the house. Dive into the freshness of the forest. Alive and genuine.
Your kids will never be bored with us. Every day is a new adventure. Fetching the cows from the fields and bringing them to the stables, then tasting fresh cow's milk and maybe feeding their own calf? Our little cat loves being stroked. purr purr... ahh. And how about this...? Fetching your own egg for breakfast straight from the nest. Delicious - how good it tastes!

Our children's play area is waiting for you, dear, children, with a playhouse and a slide, sand pit, table tennis, football table and lots of space to go wild all around the house. A little bathing lake in a beautiful setting with a great play area and sunbathing area is only 200 m from the house and serves to cool you down on hot days.
Our animals look forward to meeting you - the cows, calves, cats, hens ... and Hoppel the rabbit.
Our farm is alive. Simple, grounded, conscious of tradition. Enjoy the produce from the farm such as milk, eggs, jams, spreads and bacon.
We're looking forward to meeting you!
Videos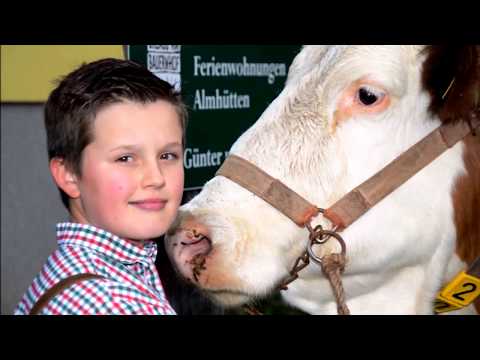 About us
...and sense nature!
Our cosy farm is also worth a visit in winter. Nestled in the Krakautal winter wonderland , our farm is located in a fog-free setting and is easy to reach. Far away from mass tourism. Amid the Murau organic region. Winter magic - a winter holiday at the farm means real hospitality and lots of comfort. Recharge, relax, breathe deeply. Time to pause. You can still experience the genuine customs and traditions. Krampus run, Christmas at the farm or the famous carnival races on Rose Monday.
Nevertheless you can also enjoy all the conveniences of a winter sports resort. Right behind our house there is a network of 25 km of marked cross-country trails through the splendid winter landscape which lead into Prebertal - unique for nature lovers. Inhale the fresh winter air and do some good for your body! And with every swing of your arm your head will be a little bit freer - very slowly. And then all of a sudden you can feel the lightness which glides you through the snow...
The cross country skiing centre Jagawirt (awarded with the Styrian cross country seal of quality) is in the immediate vicinity and can be reached on foot. Skating tracks or classic - as you prefer. Those who have not yet charged up on enough nature are in the best hands on the fairytale cross country ski trails. Their name comes from the beautiful winter landscape. The famous Prebersee lake with the absolutely snow-sure Prebersee cross country ski trails is also not far away.
Skiers and snowboarders will find everything they are looking for at the family ski lift. The ski school, which has ski hire, offers young skiers the best chance to have their first go on two skis. While the children are conquering the lift slopes, mum and dad can relax at the lift's lounge or on the sun terrace with a glass of mulled wine.
You can also enjoy an extensive walk through the powder snow or the spacious hiking trails through the magnificent natural surroundings. Whether its tobogganing, curling, ice skating, sleigh rides, going on ski tours, snowshoeing hikes - you will experience an unforgettable winter holiday!
We're looking forward to meeting you!
Videos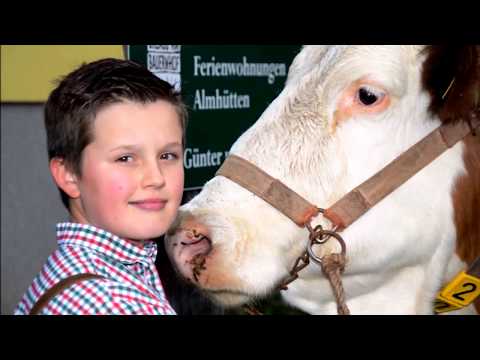 Mmmmmh! ... The fantastic smell of the farm kitchen throughout the whole house. It's Friday and Brigitte the farmer's wife is baking the delicious Sunday braided yeast bread.
All year round there is traditional cuisine at the farm both from the bakery and in our cooking pot. The carnival donuts in February, votive meat at Easter time, "Prangnudel" are made at the church consecration festival, the All Hallow's braided yeast plait and it goes without saying, Christmas baked goods such as biscuits and fruit bread in Advent.
Let Brigitte the farmer's wife pamper you ... with produce from the farm such as milk, eggs, jams, spreads and bacon. And naturally there's our own home baked delicacies.
The little cats scrabble about the hay, the little calves are in the meadow for the first time in their lives and taste the fresh grass, Amadeus the tom cat is on our garden bench and allows the sun to shine on his belly, somewhere in the distance you hear the sounding of a cowbell. In the hen house a hen is clucking. Maybe it has just laid an egg and wants to announce this to us.
Our farm has a lot of animals. Cows, calves, cats, hens and Hoppel the rabbit.
Pet Friendly
Lounge
TV room
Dogs are allowed
Garden View
Pets allowed
Snow sports
Snow skiing
Hiking
Guided walk
Alp Hikes
Mountain tours
Adventure hiking
Snowshoeing
Nordic Walking
Table Tennis
Bike paths
Ice Skating
Ski Lift
Toboggan run nearby
Ski Instructor
Summer coast
Local museum
Lake for bathing
Experience hiking trail
Lawn for sunbathing
House Garden
Garden / meadow
Swimming pool
Using the court
Playmate
Fresh Farm Produce
Children welcome
Children's playground
Toys
Theatre
Bread service
Washing Machines
Tableware Available
Linen provided
Dishwasher
Coffee machine
Our rates and packages
Unfortunately, there are no rooms or packages available for your request.
Unfortunately, there are no rooms available for your request.
Krakautal holiday apartment.
2 - 6 People
Our holiday apartment "Krakautal" is a stunning, bright holiday apartment with a lot of space to feel at home. You can watch the cow drive from your balcony in the morning. Wonderful south facing location with a balcony.
It consists of a large living room / bedroom with double bed, fully equipped kitchen, separate bedroom with 3 beds, bathroom and WC separate, storeroom and lobby.
Balcony/terrace
Shower
Single
Television
Mountain view
Alarm Clock Radio
King Size bed
Toaster
Water kettle
Baking oven
4 burner cooktop
Towels
Cleaning equipment in the flat
High speed Internet connection
Kitchen
Cookware / Utensils
Refrigerator
Main building
Overnight stay without catering
from € 15
Per Pers. / Night
Occupancy of 5 People
Steirischer Herrgott holiday apartment
2 - 4 People
...and sense nature! Our holiday apartment "Steirischer Herrgott" is a real homely apartment. With a lot of wood (spruce and larch) from our own forest, you can really smell nature. You will sleep fantastically.
Equipped with a large living room/kitchen, parent's bedroom with double bed and access to the children's bedroom with 1 bed and 1 couch, bathroom and WC separate.
Shower
Single
Television
Mountain view
Alarm Clock Radio
King Size bed
Toaster
Water kettle
Baking oven
4 burner cooktop
Towels
Connecting rooms
High speed Internet connection
Kitchen
Cookware / Utensils
Refrigerator
Sofa Bed
Main building
Overnight stay without catering
from € 19
Per Pers. / Night
Occupancy of 3 People
Ab-Hof & Bauernläden
Connoisseur's corner
Farm market
New wine shop
Awards
Organic
Suburbs / Rural
Hillside
Countryside
train station in 17 km
Bus stop in 0.2 km
City Centre in 0.8 km
Restaurant in 0.8 km
Swimming pool in 17 km
Lake / pond in 0.2 km
Ski Lift in 3 km
Cross-country ski run in 5 km