back to the overview
back to the overview
| | |
| --- | --- |
| Family | Brigitte Riedl |
| Street | Nockhofweg 47 |
| Town/city | 6162 Mutters |
| Region | Innsbruck und seine Feriendörfer, Tyrol |
| Mobile | +43 660 3462660 |
| Email | Send mail now |
About us
The Nockhof farm is located at 1150 metres above sea level above Mutters, right in the heart of the hiking and skiing region of the Mutterer Alp. From up here you have views of Innsbruck, the Inntal Yalley, Mount Patscherkofel and the Wipptal Valley. Even Mount Olperer in the Zillertal Alps beckons with its snow covered summit. Our farm lives up to many expectations and is perfect for hiking as it is located in the middle of Mutters' hiking paradise. The Mutterer aerial tramway operates in summer as well. Adventure mountain Mutterer Alp, a children's paradise. Innsbruck and its tourist attractions are approx. 8 km away.
Great place for families to relax, no dangerous roads, large garden, climbing wall, trampoline, table tennis, tabletop football, and playground ensure variety, many animals are keen on being petted, for instance Cows, calves, sheep, goats, dog, cats, rabbits; but now enough is said, the best way to find out how beautiful it really is here, is to holiday for a few days with us.
See you soon, your Riedl-Weber family
Videos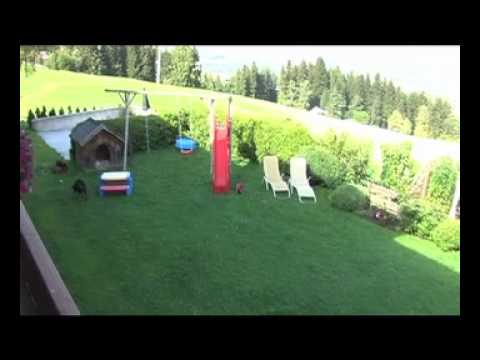 About us
The location of our farm is unique in every imaginable way; the altitude of 1,150 m opens out a spectacular view of Innsbruck, the northern chain right up to the Inntal valley, and into the Wipptal valley.
The magnificent Patscherkofel is right opposite us. Local mountains of Mutters with the Nockspitze stand guard behind us.
In winter we are the ideal holiday destination for guests wishing to enjoy a heavenly winter landscape, live right by the ski region and enjoy a small and newly developed family ski region.
Ideal location, winter hiking, tobogganing, skiing - everything on your doorstep. Enjoy a car-free holiday. We look forward to meeting you. See you soon, best wishes from the Weber family!
Videos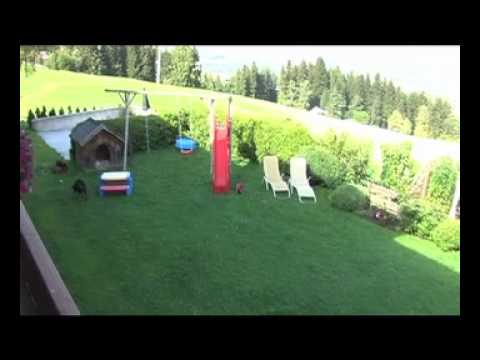 Cows, chicken, sheep, goats, pony, rabbits, cats, dogs
Pet Friendly
Lounge
TV room
Reading Room
Ski room
ATM Card (Maestro)
Cash
Visa
Phone service
Newspaper Service
Cleaning
Transfer Train station
Airport Transfer
Free high speed Internet
Internet Terminal
Bicycle rentals
Table Tennis
Carriage rides
Pony rides
Open-air pool
House Garden
Garden / meadow
Using the court
Parlor
Fresh Farm Produce
Game Room / Arcade
Children's playground
Toys
Bread service
Drying room
Tableware Available
Linen provided
Dishwasher
Coffee machine
Terrace
Our rates and packages
Unfortunately, there are no rooms or packages available for your request.
Unfortunately, there are no rooms available for your request.
Double rooms
1 - 3 People
Cosy double room having shower/WC, balcony, satellite TV and radio.
Balcony/terrace
Shower
Hairdryer
Television
Mountain view
King Size bed
Bathrobe
Sofa Bed
Main building
Overnight stay with breakfast
from € 65
Per Pers. / Night
Occupancy of 2 People
Patscherkofel holiday apartment
1 - 4 People
Patscherkofel holiday apartment has 2 bedrooms and a cosy combined living/kitchen. Shower and toilette. Two satellite TVs. Large balcony, sunny all day long.
Overnight stay without catering
from € 38
Per Pers. / Night
Occupancy of 4 People
Europabrücke
1 - 4 People
Apartment having bedroom for parents and children's room, interconnecting shower/WC.
Cosy combined living/kitchen, reading area having panoramic views, own garden.
Overnight stay without catering
from € 36
Per Pers. / Night
Occupancy of 4 People
Ab-Hof & Bauernläden
Connoisseur's corner
Farm market
New wine shop
Awards
Organic
Suburbs / Rural
Skiable area
Hillside
Countryside
Near Cable Car
train station in 3 km
Bus stop in 3 km
City Centre in 3 km
Restaurant in 0.5 km
Swimming pool in 3 km
Lake / pond in 4 km
Ski Lift in 0 km
Cross-country ski run in 4 km
Other accommodations close by