back to the overview
back to the overview
Familienbauernhof "Wildfang"
About us
Take in and experience our farmhouse in all of its enchanting aspects. The newly appointed holiday apartments are bright and cheerful with lots of wood, emanating a sense of well-being.The child-friendly interiors and the diversity of our services will make your holiday an unforgettable experience.
You will forget the stress of everyday life in the middle of a sunny valley, surrounded by wonderful mountain landscape, with lots of peaceful niches, our own playground with lots of animals to pet and care for, a day of discovering nature, and not far from the adventure park "Bärenland". To round off the day on our farm, we also offer barbecue evenings complemented by the sunset. If you are lucky you may meet our hunters back from the hunt in the hunter's lodge and hear some interesting stories. But what good would all that be if it wasn't for those who enjoy your company, drink a homemade schnapps with you, chat with you and offer you tips for excursions. We are: The small little Hannah, the grandparents Herta and Edi and us, Susann and Johannes. Best wishes from the Berthold family
Videos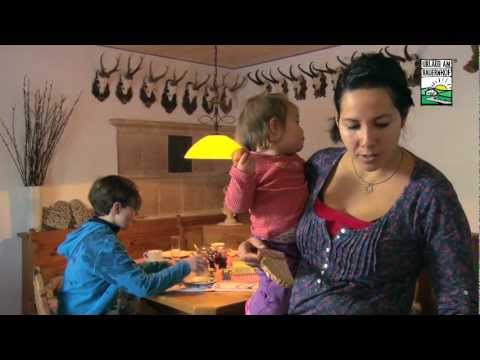 About us
Our farm is 300 years old and was completely renovated in 2011 and shines in its new splendour. Life in our farm also has not come to a standstill; accompany our farmer Johannes to the barn to feed the cows and to muck out the animals or simply enjoy the country life and admire all its wonderful facets even in winter.
You will get to hear interesting stories of the hunt in the hunter's lodge while sipping a glass of wine with chestnut or regional delicacies. The winter in the Arlberg region has something to offer everyone, be it skiing in the Alps , cross-country skiing or ski course for children in the family ski region at the Sonnenkopf or a pleasure as simple building a snowman from the scratch.
For children we have planned excellent adventures with our animals at the farm ( cattle, horse, rabbits, cats), and we sure would appreciate a helping "little" hand in the barn. There are ample culinary options in the region. But where would our farm be without the presence of those who look forward to meeting you, offer you a drink of home-made schnapps, are always attentive enough to attend to the smallest of your wishes and take pains to reawaken in you the love of the country. That would be us, Hannah the daughter, grandma Herta and grandpa Edi and Johannes and Susann as the main host and owner.
We look forward to meeting you.
Videos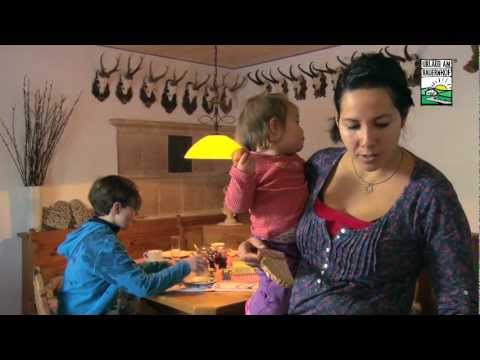 We produce our own jam and schnapps on the farm.
The following animals call our farm home:
Our horse Mike, our rabbits MIMI, SUSI and RUDI and our cat MIA.
Please note that our cattle and horses are in the pastures from July to September. We would love to
to take you there.
Non-smoking property
Non-smoking rooms
Lounge
Reading Room
Ski boot dryer
Ski room
Newspaper Service
Cleaning
Luggage Service
Snow skiing
Hiking
Alp Hikes
Mountain tours
Guided mountain tours
Climbing
Bike paths
Ski Lift
Ski bus nearby
Toboggan run nearby
Accommodation for guest horses
Summer coast
Experience hiking trail
Schnapsverkostung
Distillery
House Garden
Garden / meadow
Clothing Stall
Using the court
Playmate
Family Connection
Parlor
Sleeping in the hay
Fresh Farm Produce
Children welcome
Baby and toddler equipment
Children's playground
Child programs
Toys
Bread service
Drying room
Tableware Available
Linen provided
Dishwasher
Coffee machine
Terrace
Our rates and packages
Unfortunately, there are no rooms or packages available for your request.
Unfortunately, there are no rooms available for your request.
Holiday apartment Kristberg
2 - 4 People
A wonderful new holiday apartment with 2 separate bedrooms, each with a bathroom with shower and WC. In one of the living rooms you will find the kitchenette with everything you will require for cooking. In the other living room there is a small dining nook which is ideal for watching TV in cosy surroundings. Bed linen and towels are included in the price.
Balcony/terrace
Shower
Hairdryer
Television
Mountain view
King Size bed
Crib / Cot
Child's bed
Water kettle
Baking oven
4 burner cooktop
Towels
Cookware / Utensils
Refrigerator
Bunk Bed
Family room
Main building
Overnight stay without catering
from € 24
Per Pers. / Night
Occupancy of 4 People
Holiday apartment Roggelskopf
4 - 6 People
A holiday apartment appointed with lots of attention to detail, with a large kitchen with everything you will require, a bathroom with shower, bath and WC, and 2 separate bedrooms. Bed linen and towels are included in the price.
Balcony/terrace
Shower
Bathtub
Single
Hairdryer
Television
Mountain view
King Size bed
Water kettle
Baking oven
4 burner cooktop
Towels
Sofa Bed
Main building
Overnight stay without catering
from € 30
Per Pers. / Night
Occupancy of 4 People
Ab-Hof & Bauernläden
Connoisseur's corner
Farm market
New wine shop
Awards
Organic
Skiable area
Hillside
Near City Centre
Countryside
close to cross-country ski trail
train station in 12 km
Bus stop in 0.4 km
City Centre in 0.4 km
Restaurant in 0.4 km
Swimming pool in 0.5 km
Lake / pond in 0.8 km
Ski Lift in 0.3 km
Cross-country ski run in 0.3 km